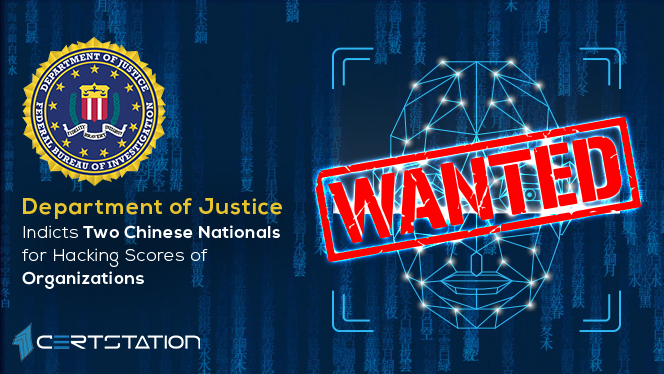 On Tuesday, the United States Department of Justice indicted two individuals for hacking hundreds of organizations all over the world, including companies working on treatment related to COVID-19, testing and vaccines.
Identified as Li Xiaoyu and Dong Jiazhi, the hackers were each charged with one count of conspiracy to perpetrate computer deception, one count of conspiracy to perpetrate theft of trade secrets, one count of conspiracy to carry out wire scam, one count of unlawful access of a computer, and seven counts of serious identity theft.
The DoJ reveals that Li and Dong targeted a wide range of industries, including high tech manufacturing, engineering, software, solar energy, pharmaceuticals, and defense. Lately, they attacked the networks of organizations "developing COVID-19 vaccines, testing technology, and treatments," DoJ says.
The accusation claims that the two colluded to steal trade secrets from eight victims, including manufacturing processes, pharmaceutical chemical structures, source code, technology designs, and test mechanisms and results.
"Such information would give competitors with a market edge by providing insight into proprietary business plans and savings on research and development costs in creating competing products," the DoJ says.
The attackers purportedly stole hundreds of millions of dollars' worth of secrets, intellectual property, and other data, and even tried to extort at least one of the victims, intimidating to make the pinched information public unless a ransom was paid.
The indictment alleges that Li and Dong occasionally acted for their own profit, but also involved in the theft of information that was of interest for the Chinese Ministry of State Security (MSS), and were aided by an MSS officer who the DoJ did not name.
Moreover, they are blamed for providing the MSS with personal information stolen from their victims, including email passwords of Chinese dissidents. For years, the attackers targeted victims globally "for the benefit of the MSS and for their own personal gain."
The attackers targeted recognized susceptibilities in popular software to perform interruptions. In some situations, they used newly revealed security faults, before a majority of users would have installed available patches.
"China has now taken its place, alongside Russia, Iran and North Korea, in that shameful club of nations that provide a safe haven for cyber criminals in exchange for those criminals being 'on call' to work for the benefit of the state, here to feed the Chinese Communist party's insatiable hunger for American and other non-Chinese companies' hard-earned intellectual property, including COVID-19 research," said Assistant Attorney General for National Security John C. Demers.