Oracle fixes over two hundred distantly exploitable flaws this July 2018 severe fixes update. Current week, Oracle announced its July 2018 set of fixes to state a total of 334 security flaws, the greatest number of patches resolved with a severe fix update to currently. Over two hundred flaws may be distantly exploitable deprived of verifications.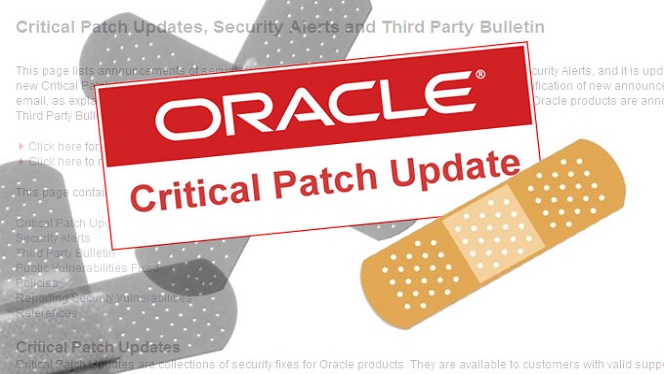 The running month, about twenty three products from the company security giant were fixed, containing E-Business Suite, Financial Services Applications, Fusion Middleware, Hospitality Applications, Java SE, MySQL, PeopleSoft Products, Retail Applications, Siebel CRM, and the Sun Systems Products Suite.
According to advisory of Oracle, some fifty of the bugs stated running month had a CVSS 3.0 Base Score of 9.8. Generally, sixty one security flaws had a CVSS score of 9.0 or beyond. A total number of 203 flaws were fixed in business-severe applications, about 65 percent of which could be oppressed distantly deprived of entering credentials, ERPScan, an enterprise that focusses in acquiring Oracle and SAP applications, figures out.
The current month, Financial Services Applications received the greatest quantity of patches, at 56. 21 of these flaws may be distantly exploitable deprived of authentication. Fusion Middleware acquired the second extreme number of patches, at 44, with 38 of the addressed issues remotely useable missing authentication.
Retail Applications are next in line at 31 patches (26 bugs being distantly vulnerable) and MySQL, also with 31 fixes (merely 7 flaws distantly useable), trailed by Hospitality Applications with 24 patches (7 problems distantly exploitable), Sun Systems Products Suite at 22 fixes (10 bugs distantly vulnerable), and Enterprise Manager Products Suite with 16 patches (entire distantly vulnerable deprived of authentication).
Oracle also stated flaws in PeopleSoft Products (15 flaws – 11 distantly vulnerable deprived of authentication), E-Business Suite – 14 bugs, 13, Communications Applications – 14 bugs, 10 distantly exploitable, Virtualization – 12 flaws, 2 distantly exploitable, Construction and Engineering Suite – 11 flaws,  6 distantly exploitable, JD Edwards Products  – 10 flaws, 9 distantly exploitable, Java SE – 8 flaws, 8 distantly exploitable, and Supply Chain Products Suite – 8 flaws, 6 distantly exploitable.
"On the surface, the downward trend of Java SE patches would appear to be positive," Apostolos Giannakidis, Security Architect at Waratek, told SecurityWeek. "However, several actions taken to fix Java SE vulnerabilities in the July CPU are likely to break the functionality of certain applications. Application owners who apply binary patches should be extremely cautious and thoroughly test their applications before putting patches into production."
"The fix for the most critical Java SE vulnerability in the July CPU – CVE-2018-2938 – removes the vulnerable component (Java DB) from the JDK," Waratek explained in a guidance note sent to SecurityWeek Wednesday. "Users that depend on this component must manually obtain the latest Apache Derby artifacts and rebuild their applications."
The least influenced products contain Utilities Applications – 4 flaws, 3 distantly exploitable deprived of authentication), Policy Automation – 3 bugs, entire distantly vulnerable, and Database Server (3 – 1). Entire of the flaws influencing Hyperion – 2 flaws, Insurance Applications – 2 flaws, Global Lifecycle Management – 1 flaw, iLearning – 1 flaw, Siebel CRM – 1 flaw, and Support Tools – 1 flaw may be oppressed distantly deprived of authentication.
Several significant problems stated the running month could be oppressed distantly to take possession of the influenced application: CVE-2017-15095 in Oracle Spatial, CVE-2018-7489 in Global Lifecycle Management OPatchAuto component, CVE-2018-2943 in Fusion Middleware MapViewer, CVE-2018-2894 in WebLogic Server, and CVE-2017-5645 in PeopleSoft Enterprise FIN Install.
Oracle released the accessibility of fixes in late June for new alternatives of the speculative implementation threat procedures called Meltdown and Spectre. The organization announced the initial set of mitigations beside Spectre and Meltdown as portion of the January 2018 CPU. Entire Oracle users are directed to spread over the patches contained in Oracle's Critical Patch Updates deprived of delay, as certain of the stated flaws are being aimed by harmful hackers in live threats.
"Oracle continues to periodically receive reports of attempts to maliciously exploit vulnerabilities for which Oracle has already released fixes. In some instances, it has been reported that attackers have been successful because targeted customers had failed to apply available Oracle patches," the company notes.