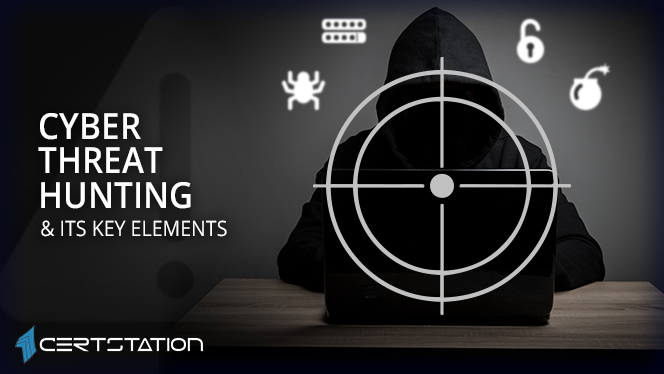 What is Cyber Threat Hunting?
Cyber threat hunting is a proactive cyber-defense activity and is the method of practically searching through networks to spot and segregate unconventional threats that avoid current security solutions. This is contrary to outdated threat management actions, such as firewalls, intrusion detection systems (IDS), malware sandbox (computer security) and SIEM systems, which characteristically involve an examination of evidence-based information following a warning of a likely threat.
For businesses keen to take on a more hands-on method to cyber security – one that seeks to halt attacks in their tracks – the next rational step is to add threat hunting to their security program.
After enhancing their endpoint security and event response policies to curb the recognized malware attacks that cannot be avoided in today's world, companies can then begin to act aggressively. They are prepared to introspect and discover what hasn't yet been spotted, which is precisely the purpose of threat hunting.
Threat hunting is an aggressive method that works from the principle of hypothesis of breach; cyberthieves are already within an organization's network and are secretly supervising and moving through it. While this may appear implausible, attackers may in fact be inside a network for a longer period of time, preparing and implementing attacks such as advanced persistent threats, without any mechanical defense detecting their presence.
The Key Elements of Threat Hunting
The objective of threat hunting is to monitor daily happenings and traffic across the network and explore possible irregularities to find any suspicious activities that are yet to be discovered, leading to a full-scale breach. To attain this level of early discovery, threat hunting combines four equally significant components:
Methodology. To excel at cyber threat hunting, businesses must pledge a hands-on, permanent technique that is continuing and ever-evolving. A responsive, unplanned viewpoint will be self-defeating and get only negligible results.
Highly trained, devoted personnel. Cybersecurity threat analysts are well-conversant at using the security technology effectively, but they also combine a persistent drive to be aggressive with intuitive forensic abilities to expose and alleviate hidden threats.
Most corporations already have complete endpoint security solutions with automated finding in place. Threat hunting functions in addition to these and adds cutting-edge technologies to find irregularities, uncommon designs, and other hints of attackers. New cloud-native endpoint protection platform (EPP)s that influence big data analytics can arrest and examine large amounts of unfiltered endpoint data, while interactive analytics and artificial intelligence can deliver widespread, high-speed discernibility into malicious actions that appear normal at the beginning.
Threat intelligence. Having access to evidence-based international threat intelligence from professionals worldwide further augments and accelerates the search for already existing IOCs.
Research confirms the significance of these threat hunting abilities. When asked to rank the most significant competence the survey found that 69 chose threat intelligence, 57 chose behavior analytics, 56 opted for automatic detection, and 54 went for machine learning and automated analytics.
How Threat Hunting is Carried Out
Threat hunters search for attackers through susceptibilities a company may not even know exists. These individuals spend substantial amounts of time preparing and doing reconnaissance, only acting when they know they can effectively infiltrate the network without notice. They also plant and build malware that has yet to be identified, or use methods that don't rely on malware at all, to set themselves up with a tenacious base from which to attack.
So, what does it take to outwit even the shrewdest attackers?
Cyber-threat hunters are inexorable and are able to find even the most minute trace of what cyber attackers leave behind.
Threat actors exploit their skills to focus on the smallest changes as the attackers make their moves inside a system of file.
The best threat actors trust their instincts to discover the most wicked attacker's clever moves.
Threat Hunting is Gaining Momentum
Though an evolving security practice, threat hunting is picking up pace quickly. As per a 2018 report, there was an upsurge in businesses using threat hunting platforms from last year's survey, while a number of other companies surveyed plan on building threat hunting programs over the next three years.
So, what is the reason behind these companies' motivation?
64% of the organizations enhanced discovery of advanced threats
59% saved time in not having to physically associate events
50% revealed threats that could not be otherwise noticed
49% created new ways to find threats
Tips for Effective Threat Hunting
To attain the level of success that brings benefits like the ones above, companies first need to guarantee that they have the most wide-ranging endpoint security possible. This can be attained through a cloud-based solution with the tools and the technology that provide automated finding and extensive discernibility into all endpoint activity.
With that as a foundation, you can then add on in-house threat hunting capabilities by engaging employing the right personnel, with the right skills and enough bandwidth to go on the offensive.
Nevertheless, it's significant to note that, if you experience trouble in hiring a skilled threat hunter, you have the choice to supplement your security team with a managed threat hunting service. This provides you access to a devoted team of experienced threat experts who keep watch over your atmosphere and inform your team of developing threats. A typical service would include:
Proficient threat authentication. You would have access to the examination, authentication, and prioritization of warnings to help drive the right actions when attacks happen.
Roadmap to root cause. These specialists also provide additional setting to update inquiries and root cause analysis. Examine, authenticate, and prioritize alerts to help drive the right actions.
Conclusion
Threat hunting has proven be very effective and is gaining traction, as companies find ways to enhance security and remove threats. Cyberthreat Intelligence activities, especially, allow teams of experts to focus their resources in order to attain all-out effect, while they anticipate threat identification using a threat-hunting method. It's an approach which is moving from responsive to hands-on, and companies are finding ways to cope with problems in a quicker, more efficient way.