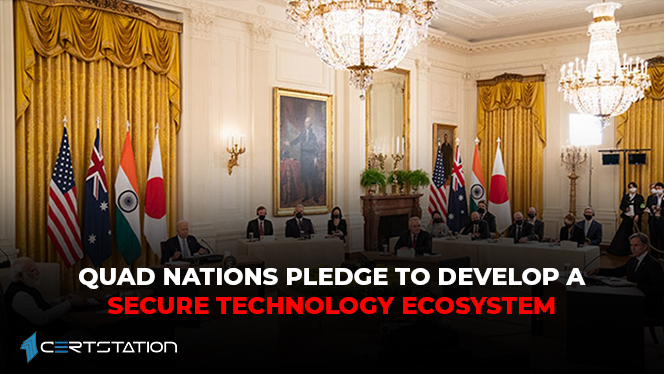 On Friday, the Quad countries, comprising Australia, India, Japan, and the United States, pledged to foster the development of secure technology.

At the first-ever in-person Leaders' Summit of the Quad, the four pledged to collaborate on steps to improve international health and infrastructure, to battle climate change, and ensure the security of important and evolving technology.

The Quad committed to building confidence, integrity and interoperability, but underscored that suppliers, vendors, and distributors are likely to ensure the transparency and liability of their practices.

Additionally, technology developers are expected to espouse a security-by-design method, guaranteeing that strong safety and security practices are executed in the development process.

According to a White House announcement: "Resilient, diverse, and secure technology supply chains – for hardware, software, and services – are vital to our shared national interests," adding "close cooperation on supply chains with allies and partners who share our values will enhance our security and prosperity, and strengthen our capacity to respond to international disasters and emergencies."

Committed to ensuring enhanced resilience of critical infrastructure against cyberthreats, the Quad will unveil a Quad Senior Cyber Group, where specialists will meet often to ensure close partnership between government and industry on guaranteeing embracing of shared cyber standards, safe software development, and safeguarding the cybersecurity of secure and dependable digital infrastructure.