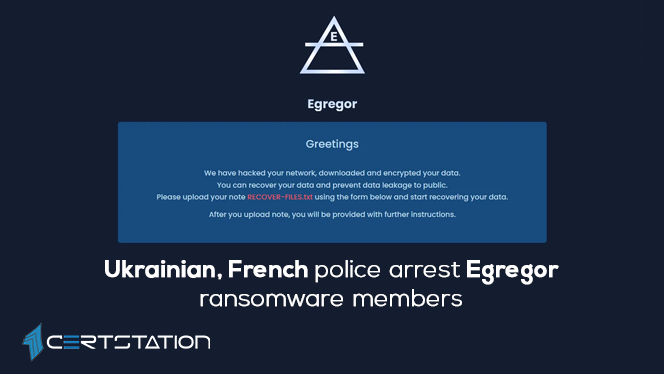 On Friday, French radio station France Inter reported that members of the Egregor ransomware cartel have been arrested this week in Ukraine.
The arrests, which have not been formally announced, occurred due to a joint inquiry between French and Ukrainian police.
Sources in the threat intel community have established the existence of a law enforcement action but failed to comment for the time being.
Although the names of the suspects have not been released, France Inter said the apprehended suspects provided hacking, logistical, and monetary support for the Egregor gang, which began operating in September 2020, based on a Ransomware-as-a-Service (RaaS) model.
As per France Inter report, the detained suspects are thought to some of these "affiliates" (or partners) of the Egregor gang, which help buttress its operations.
France Inter said French authorities got involved in the probe after numerous major French companies were hit by Egregor last year, such as game studio Ubisoft and logistics firm Gefco.
A probe was begun last year, and French police, together with their European peers were able to capture Egregor members and infrastructure to Ukraine.