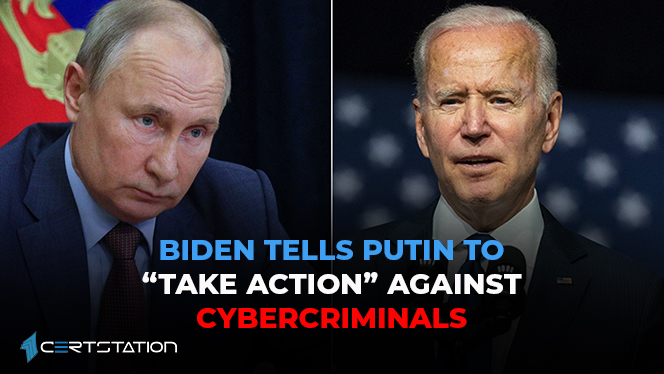 In a phone call, President Joe Biden warned Russian President Vladimir Putin that he must crack down against threat actors acting in his country.
The White House said that the United States reserves the right to protect its people and its critical infrastructure from future attacks.
In his call with Putin, Biden also underlined that he is committed to sustained engagement on the wider threat posed by ransomware, as per the White House.
Last month, Biden warned the Russian president that there would be consequences for continuing cyberattacks stemming from Russia. Since then, a new ransomware attack associated with the Russia-based REvil hacking group has triggered extensive disruption.
"I made it very clear to him that the United States expects when a ransomware operation is coming from his soil even though it's not sponsored by the state, we expect them to act if we give them enough information to act on who that is," Biden said, speaking to reporters at an event on economic competitiveness. Asked whether there will be consequences, he said, "Yes."
The call with Putin underlined the degree to which the ransomware threat from cybercriminal gangs has bourgeoned into a pressing national security challenge for the White House.
It also suggested a likely concession by the administration that earlier warnings to Putin had failed to limit a criminal activity that has taken aim at organizations worldwide.
The Kremlin said "Putin noted that despite the Russian side's readiness to jointly stop criminal activities in the information sphere, U.S. agencies haven't made any requests during the past month."
It also said that the two leaders highlighted the need for cooperation on cybersecurity, which it said "must be permanent, professional and non-politicized and should be conducted via special communication channels … and with respect to international law."