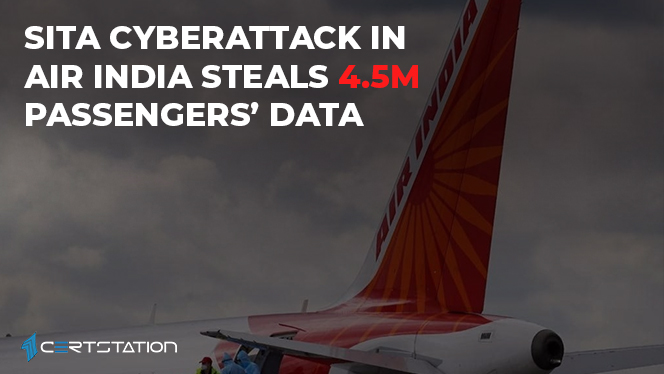 The data of the 4.5 million passengers were stolen in the SITA cyberattack. The IT supplier, SITA has become a victim of a cyberattack in Air India. The breach had led to the leak of personal data of a decade dated 26th August 2011 to 3rd February 2021.
Air India disclosed that the data stolen includes the name, contact information, ticket information, date of birth, passport information, credit card data, and Star Alliance and Air India frequent flyer data. Air India also mentioned that flyer passwords CVV/CVC data were safe because SITA did not have them.
Ever since the news of cyberattack has been discovered, Air India has been carrying out severe investigations. Moreover, the cyberattack led to the revelation of other airlines also being victimized by it such as Air New Zealand, Jeju Air, Malaysia Airlines, Japan Airlines, Finnair, Singapore Airlines, Lufthansa, Cathay Pacific, and others. It was proved when in March, Singapore Airlines told that 580,000 flyers have become a victim of a cyberattack.
Many airlines such as Alaska Airlines, Virgin Australia, and American Airlines had to cancel or delay flights when the global IT outage was suffered by Sabre. However, Sabre held its hardware provider responsible for this outage.
Furthermore, Dell/EMX told that they have witnessed hardware redundancy failure that affected Sabre's system including PSS and check-in. However, the issue has been taken care of but Sabre could still not figure out the reason for the failure.